There are many factors to take into consideration to determine what kind of skin type you have.
Genetics, internal and environmental factors all come into play. Internal factors such as our state of health, hormones and the food that we eat influence how our skin looks. Environmentally, we face things like pollution, second-hand smoke and the sun, which also affect the health of our skin.
There are five main categories that are used to define a skin type. Let's break them down into detail.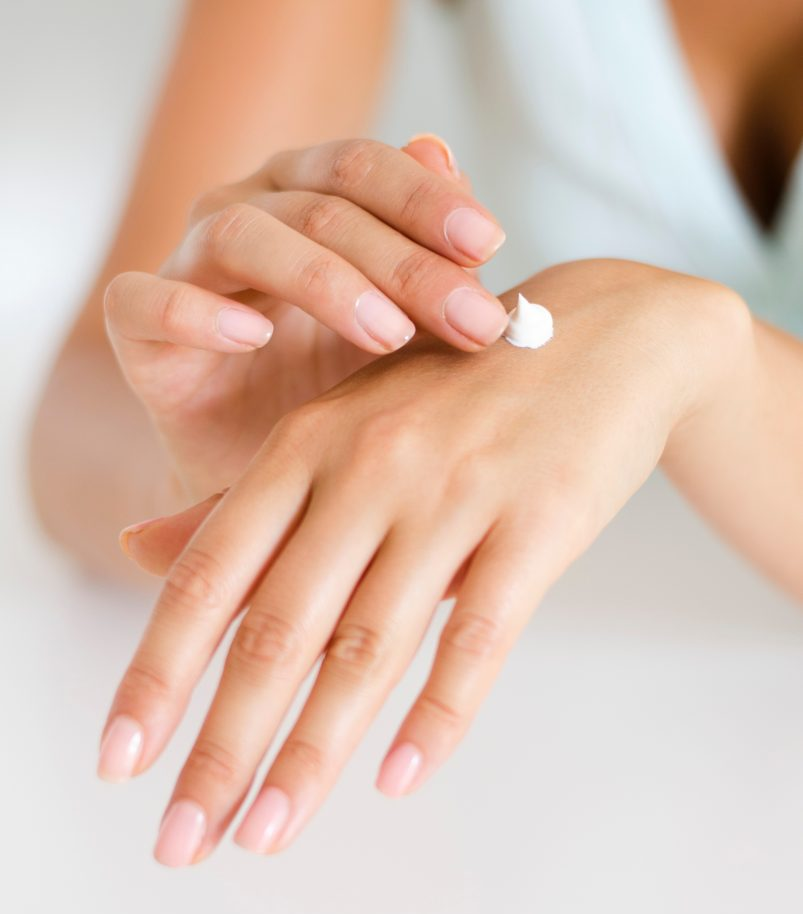 Normal Skin
Normal skin looks healthy and "normal" with no abnormal or sickly indicators. Normal skin has good circulation, a nice healthy colour and lot of vibrancy.
The oil glands that are responsible for sebum production produce it at a normal and moderate rate, which makes the skin not too oily and not too dry. This is why normal skin looks plump and radiant.
Normal skin type is the type of skin that we refer to as having a "healthy glow." Normal skin also has a supple and elastic feel to it. It doesn't feel saggy or loose. Out of all the skin types, normal skin is the least problematic.
Dry Skin
Dry skin is the result of under active or non-productive sebaceous glands. With dry skin, the old glands that are responsible for keeping the skin hydrated either barely produce oil or do not produce oil at all.
This is why dry skin looks dull in appearance, and it may feel tight and lack elasticity. It may have dry patches or a flaky look to it. It also tends to be itchy and sensitive. People with dry skin tend to have a sallow skin tone. They also tend to wrinkle prematurely and their skin is easily irritated.
Dry skin is fragile and vulnerable to changes in temperature and humidity.
People with chronic dry skin have to hydrate their bodies by drinking a lot of water. They should also use hydrating skincare products and frequently mist their faces with water to maintain its lubrication.
Oily Skin
Oily skin is caused by overactive sebaceous glands. People with oily skin have glands that produce too much oil, which causes the skin to become over lubricated. Because too much sebum is produced, the skin often looks greasy and very shiny and the pores are often large and clogged. People with oily skin tend to struggle with acne, blackheads and closed comedones.
Ironically enough, this skin type retains a youthful appearance the longest because oily skin is not prone to aging or wrinkles.
People with oily skin need to avoid harsh and drying skincare ingredients because they actually trigger more oil. Products that contain pore-clogging or emollient ingredients can also exacerbate oiliness.
People with oily skin should use weightless liquids, serums, fluid lotions, and light gels instead of creams or thick formulas.
Sensitive Skin
Sensitive skin is more of a condition that a skin type. Sensitive skin can be oily, dry or normal – in fact, any skin type that is easily irritated is considered sensitive.
A person with sensitive skin may wash their face and immediately feel dry and itchy right after. People with sensitive skin often feel itching, burning, chaffing and stinging, and the skin can be blotchy and prone to rashes and redness. People with sensitive skin often have visible broken capillaries.
Sensitive skin requires special treatments and products to remain in good condition. This type of skin may also have allergic or adverse reactions to certain types of cosmetics and skincare products that contain ingredients with alcohol bases, synthetic ingredients, oil bases and fragrances, and artificial colourants.
People with sensitive skin should use hypoallergenic products or those containing all natural ingredients to prevent skin reactions.
Combination Skin
Most people are combination skin types. This is a very common skin type. Combination skin is dry in some spots, oily in others and even normal or sensitive in other spots.
People with combination frequently have T-Zone faces. The T-Zone covers the forehead, nose and chin. People with combination skin have oilier foreheads, noses and chins, while the skin around their eyes and mouth is dry. In some cases the cheeks could be either oily or dry as well.
People who have combination skin should treat their T-Zone with products that help to reduce oil, and the dry parts should be treated with moisturizing products.
---
Here is a quick test that you can take that will help you determine your skin type:
1) After cleansing, how does your skin feel?
A) Tight and rough
B) Smooth and supple
C) Slightly oily
D) Oily in some areas, tight in others
2) How often does your skin break out in acne?
a) Almost never
b) Rarely
c) Often
d) Only in the T-Zone (across the forehead and down the nose and chin)
3) Which of the following best describes your skin texture?
a) Smooth and transparent
b) Firm and even
c) Slightly rough and uneven
d) A mixture of the above
4) How does your skin look during the day?
a) Flaky and chapped
b) Clean and fresh looking
c) Shiny
d) Shiny in the T-Zone by the afternoon
---
When you finish this little quiz, add up how many A's, B's, C's or D's you have.
If you have mostly A's, then you have dry skin.
If you have mostly B's, then your skin is normal.
If the majority is C's, then your skin is oily.
And if it's mostly D's, then you have combination skin.