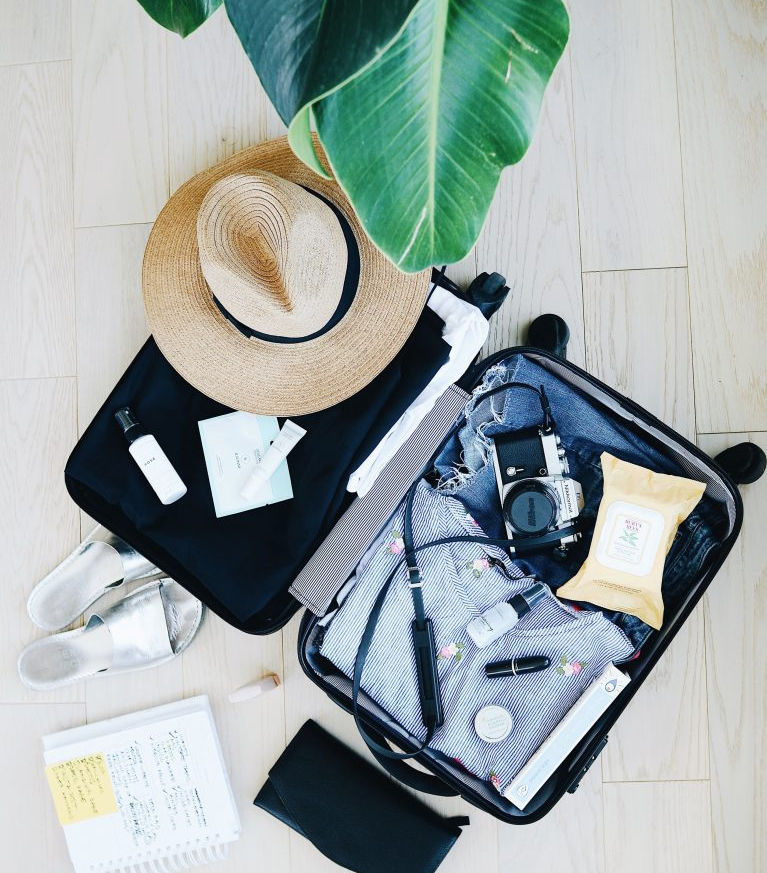 Knowing which items to pack in your carry on luggage is an essential life skill for any traveller. Here is my checklist for what you need to pack. Trust me, having these items will make your life easier and your travels more enjoyable!
Sanitizer wipes
Prior to your flight taking off, it's really important to spend a few minutes disinfecting your seating area, the airplane arm rests, remote, and the meal tray. Airplanes are notorious for being dirty, and who really knows how well they are cleaned after a flight, so it's important to take matters into your own hands and ensure that your personal space is free of germs. You may get the side eye from the person sitting next to you, but it's better to safe than sorry!
Cashmere scarf
A large cashmere scarf has so many uses on a flight. It can be used as a makeshift pillow when you want to sleep or as a blanket that you can wrap around you when you're cold.
Tablet
Entertainment is key to kill time during a flight, which is why a tablet is another travel essential. Make sure that your tablet or phone are well charged and are loaded with great music, movies, ebooks and podcasts. Some airlines don't offer WiFi so don't forget to download all your entertainment before the plane takes off.
Portable charger
Speaking of electronics, not all planes have the option for you to charge your phone or tablet. If you like using your phone or tablet on the flight for games or listening to music/podcasts, then the last thing you want is for your battery to run out mid-flight. That's why a portable charger should always be in your carry on.
Headphones
Save yourself some money and bring your own headphones on the flight, rather than purchasing the low quality ones that the flight attendant will offer you.
Face mist
I find the air in planes to be quite drying, which is why a face mist is always on my carry on packing list. I recommend that you use a mist that's infused with antioxidants to give your lovely face some much needed moisture during a long flight.
Hygiene wipes
Hygiene wipes are a must-have during long haul flights when no showers are in sight. Take them to the bathroom and give yourself a wipe to make yourself feel a little more human.
Water bottle
Paying for bottled water can be expensive and all the single-use plastic is not environmentally friendly, which is why I highly recommend packing a reusable water bottle in your carry on. Most airports have water bottle filling stations, and the flight attendants will always fill up your bottle if you ask. And while it may mean extra trips to the bathroom, drinking lots of water before and during your flight can help with jet lag and fatigue, which sounds like a win to me.
Toothbrush
This goes without saying, but keep your pearly whites clean and your breath smelling fresh by packing a travel-sized toothbrush and toothpaste with you.
Spare pair of underwear
Packing a spare pair of underwear in your carry on will be your saving grace if the rest of your luggage gets lost during your travels. Plus having a pair of hand is always great during long transatlantic flights or those times when you're traveling with multiple layovers.
Earplugs
Airplanes can be loud and there are no guarantees that the people around you will be quiet during a flight, even when the cabin gets dark. That's why a pair of earplugs is a must have! If you're sensitive to noise like I am, this small but very significant item can help you fall asleep, even if there's a crying baby in close proximity to you.
Your camera
I always pack my camera inside its protective case and in my carry on bag because I don't want it to get damaged during the flight. The last thing you want is for your camera to be break, so treat it as you would any other delicate and precious possession.
A pen
Always keep a pen in your carry on luggage because you will always need one, from filling out landing cards to writing in your travel diary. Bonus tip: Keep the pen with your passport and you will never lose it!