The Abbotsford Tulip Festival is an hour and a half drive from Vancouver, and is considered one of spring's best attractions. This popular festival boasts stunning mountain views and fields upon fields of bright tulips of all colours. The vibrancy and intensity of these flowers is truly breathtaking, especially on a sunny day.
I visited this location in late April during the "high bloom" season to see what all the fuss is about. Like most things in life, there are good and bad things about this attraction. I decided to share my feedback and write about my experience to help you decide whether or not you should put the Abbotsford Tulip Festival on your bucket list.
The Good
The tulips are beautiful. They were a truly marvellous sight to behold. The festival has tulips of all kinds and colours. Yellow, pink, red, white and even purple! There are so many fields of tulips with the pretty mountain backdrop, making this location perfect for photography.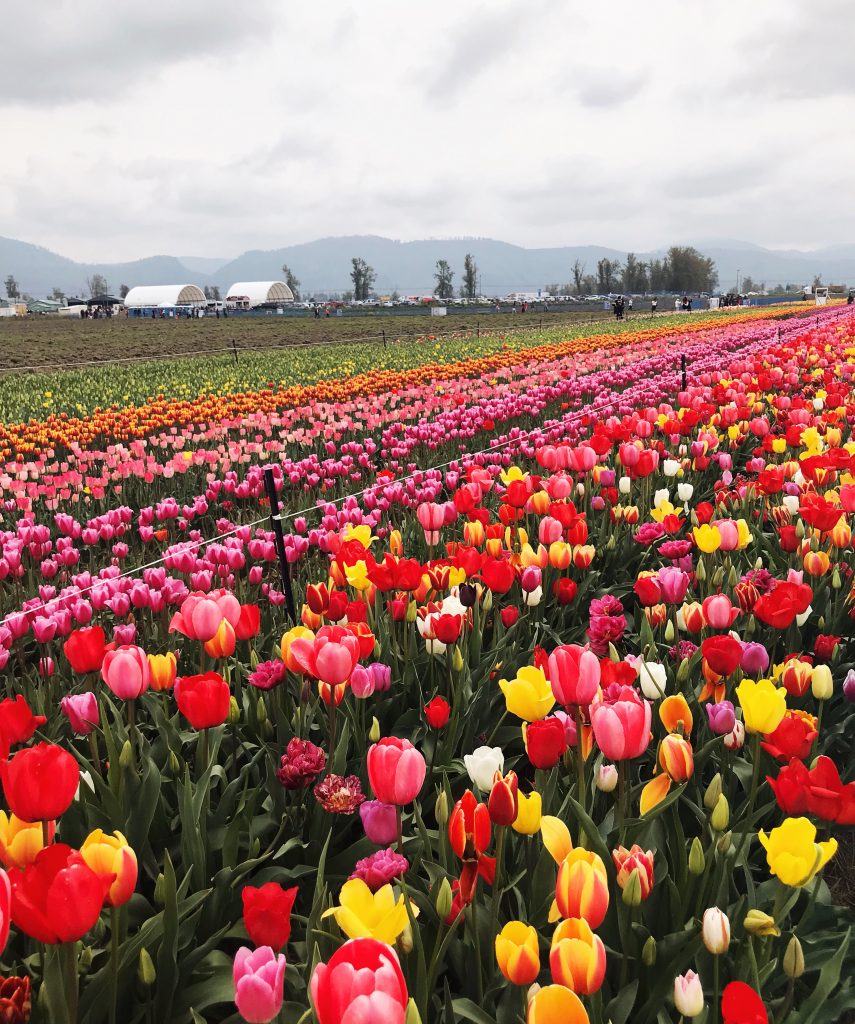 The Bad
It's a bit boring. The festival, despite it's magnificent natural beauty, does not offer many things to do. I didn't see many activities or entertainment that would make this a true festival. There wasn't any music, performances, or very much to see. There was a small area for children's activities, a pick your own tulips area, and an area where you can purchase tulip bouquets, but that was the extent of it. You're basically on a farm, looking at tulips. If you come here expecting to make a full day out of it, then you'll probably be disappointed.
Despite this huge drawback, it's also very busy! Photographers and Instagramers from all over the region flock to this location to take photos during high bloom, which makes it a busy spot. It does get very crowded at times. It's very hard to take a photo of the tulips without capturing someone else in the photograph. For this reason I recommend visiting early in the morning, or right before sunset, when crowds are more sparse.
If you're a photographer, you should know that there are many power lines around the farm where this festival takes place. It's hard to escape them, and your photos will surely have them in the background, unless you Photoshop them out.
It's also muddy, especially after it rains. A word of caution: don't wear any nice shoes! I saw a few girls dolled up in high heels and they were struggling to get through the mud. If your feet do get dirty, there's a clean-up station at the very front where you can quickly rinse and dry your shoes.
Another thing to note is that parking is a pain for people with mobility issues. The parking lot is absolutely massive but it's all gravel, making it hard for older folks, people in wheel chairs, and mom's with strollers to get from their car to the gate.
There's also a lack of healthy food options. When I went, there were only two food trucks on site: a hamburger truck and a pita truck. I recommend bringing your own snacks if you don't like those two options.
Lastly, it's expensive for what it is. We paid a $50 admission fee for two people on a weekend during high bloom, and I didn't think the cost justified the experience. It's slightly cheaper to buy tickets on their website than at the gate.
Final Verdict
Would I go again? No. It's an easy pass for me. Abbotsford Tulip Festival, despite the beauty of the tulips, felt like a rip-off because there wasn't much to do.
But if you really love tulips, then it could still be worth it despite these drawbacks.
They do offer a Locals Night for Abbotsford residents where the admission price is really affordable. If I lived in Abbotsford I would probably take advantage of the deal, but I won't be making the drive from Vancouver again.